Tips to maintain your addiction recovery and carry into the new year
The holidays can be hard for people recovering from a drug or alcohol addiction. 'Tis the season for over-indulgence with lots of food and drink, only to be followed by a strict New Year's resolution promising to banish all of the unhealthy things you consumed over the last couple of weeks. Not to mention, the holiday season can bring forth memories of the pain addiction used to cause you and your family. There can be triggers lurking amidst the holiday cheer, that might tempt or pull people towards using substances again. 
However, it doesn't have to be that way! It's possible to enjoy holiday parties, good food and family time without compromising your long-term recovery.
Below are three positive nutrition habits that can help you stay on track with your recovery during the holidays. You can even take these habits with you into the new year and get a headstart on your personal goals.
1. Maintain a Balanced Diet
The holidays often involve large dinner parties and celebrations full of food and alcoholic drinks. You may be tempted to skip breakfast and lunch to save your appetite for a larger meal. The best thing you can do, however, is eat regular and balanced meals throughout the day, being sure to get a healthy combination of carbohydrates, fats, and protein. Monitoring your hunger is one of the key steps of the HALT method of self-check-in.
Staying with this routine can help you avoid an energy crash, which could cause you to binge when you finally do eat, leaving you to feel sluggish and overly full. Additionally, eating regularly helps maintain your blood sugar, which is associated with reduced cravings for less nutrient-dense food and drink, such as desserts and alcohol. 
2. Watch How Much Added Sugar You Eat or Drink
Whether you're in early recovery or you've been in recovery for decades, you're likely aware of the sugar cravings that occur in the beginning and periodically throughout your journey. These cravings tend to be heightened during the holidays due to the abundance of cookies, gingerbread, candy canes and other festive treats offered this time of year. We've discussed in the past why these sugar cravings occur and how too much sugar can impact your health, especially if you're in early recovery.
Be mindful that regular, increased sugar intake increases your risk for an array of comorbidities, including type 2 diabetes. In fact, one study from the International Journal of Environmental Research and Public Health suggests that substance abuse is associated with glucose dysregulation, and can therefore increase a person's risk of developing diabetes. While it's unlikely and impractical for you to completely avoid all sweets during the holidays and there's nothing wrong with having a cup of hot cocoa with chestnuts roasting on an open fire, you should still try to be aware of how much added sugar you're consuming at once. Aim for moderation in order to help reduce overall cravings that could lead to future health complications.
3. Be Mindful of Alcohol Use
With dinner party invites and celebrations comes an increased possibility that you'll be around alcohol this holiday season. If you're in recovery from alcohol use disorder (AUD), this could mean choosing between staying and choosing an alternative like going home to avoid temptation and relapse triggers. Rest assured that either choice is okay! Nothing should come before your long-term recovery. 
If you do choose to attend a holiday party and can handle being around alcohol, consider bringing a non-alcoholic alternative to help stay in the holiday spirit. Mocktails are great, generally healthy alternatives to alcohol and can help you stay hydrated. If you don't struggle with alcohol use and consume it responsibly, consider limiting your overall intake during the holidays or alternating with mocktails between each drink.
Alcohol contains more calories per gram than a gram of carbohydrates or protein, which means the calories from each alcoholic beverage can add up quickly. With the new year around the corner, most people have fitness and health goals in mind, and cutting back on alcohol during the holidays can help give you a head start on your long-term goals.
Related: 6 Non-Alcoholic Recipes to Toast the Holiday Season
The winter holidays are a great time to get treatment
It might not sound ideal to spend the Christmas holiday in drug or alcohol rehab, but recovery is the best gift you and your family can receive. Not only will your mind and body be restored, but you'll be able to reach your full potential without drugs or alcohol. Happy Holidays!
Do you know someone struggling with drugs or alcohol? Are you looking for tips to help you avoid temptations during the holidays? Call 888-448-0302 to speak to a recovery specialist at Landmark Recovery. A member of our admissions team is available 24/7 to answer your questions.
Click here to find a rehab facility near you.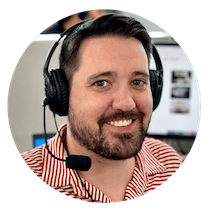 Choose Recovery Over Addiction
We're here 24/7 to help you get the care you need to live life on your terms, without drugs or alcohol. Talk to our recovery specialists today and learn about our integrated treatment programs.