At Landmark Recovery, we strive to help one million families beat addiction within the next 100 years. Meet the team that is working day-in and day-out to help those struggling with addiction as they begin their road to recovery.
Matt Boyle
Co-founder & Chief Executive Officer
Boyle is the co-founder and chief executive officer of Landmark Recovery. He founded the company in 2016 with the goal of changing the face of addiction recovery in America and saving one million lives in the next hundred years. His vision for a new kind of behavioral health offering, addressing the underlying causes of substance use disorders and at a lower cost, has positioned Landmark as one of the fastest growing addiction recovery organizations in the United States.
With a selfless passion for others, Boyle invests heavily in Landmark's employees. He firmly believes people are the only sustainable competitive advantage in the healthcare space and is committed to the guiding principles of fair compensation and transparency. Under his leadership, Landmark has built a dynamic company culture that now boasts nearly 800 employees across the country.
After graduating Duke University, he started his career at Boston Consulting Group focusing on corporate development and business strategy. He then joined the family business as director of strategy and development at Landmark Senior Living, and later the vice president of finance, before founding Landmark Recovery.
AJ Henry
Chief Operating Officer
Henry oversees Landmark's operations department, helping shape the compassionate levels of substance use care offered at our facilities. Henry brings more than 15 years of leadership experience and a deep understanding of talent acquisition, business development and executive support. He plays an instrumental role in diversifying Landmark's business development strategies. Henry originally joined Landmark as the Chief People Officer. Before that, he held leadership positions at Amazon, Lowe's and Target. Henry holds a bachelor's degree in management and human resources from the University of Kansas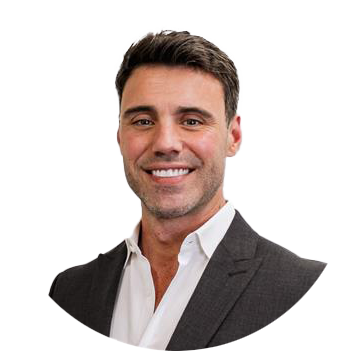 Matthew DiGiacobbe
Chief Financial Officer
Matthew DiGiacobbe is a seasoned financial executive with over a decade of leadership experience in building and managing large financial crimes programs at some of the world's most prominent financial institutions, including HSBC and UBS. Most recently, he served as the Chief AML Officer at DriveWealth, a fintech company specializing in global retail brokerage. Matthew is a Certified Anti-Money Laundering Specialist (CAMS) and holds a BS in Finance Management, a BS in Accounting, and a Graduate Degree in Strategic Leadership, all from Goldey Beacom College. A dedicated athlete, Matthew was a Scholar All-American College Athlete and a High School All-American Athlete, with a recent induction into the College Sports Hall of Fame in 2022. In addition to his professional achievements, Matthew and his wife Nicole are proud parents to three beautiful girls.
Jason Kirby, DO, MBA, FASAM
Chief Medical Officer
As chief medical officer, Dr. Kirby oversees Landmark's standards of care and compliance with regulatory policy while managing Landmark's best-in-class medical, telehealth and admissions teams. He is an expert in population health policy and dual board-certified in addiction medicine and family medicine. He is a fellow of the American Society of Addiction Medicine (ASAM), serving on both its financial committee and level of care committee, and is a faculty member for ASAM's treatment of opioid use disorder courses. Dr. Kirby previously served as medical director of addiction and recovery services at St. Peter's Health Partners in Albany, NY and practiced at St. Peter's Hospital as the chief of behavioral health. Prior to that, Kirby served as medical director for Gateway Rehabilitation Center and Highmark Blue Cross Blue Shield's Medical Management and Policy Division.
Justin Hartman
Chief Revenue Officer
As chief revenue officer, Hartman is responsible for ensuring an effective and passionate end-to-end partner and patient experience. Bringing more than 10 years' experience managing customer acquisition and retention programs, his strategic vision for the company's brand and revenue strategy is what positions Landmark Recovery as one of the fastest growing addiction recovery centers in America. Hartman's team of marketing and development experts are dedicated to educating the nation on the impact of substance abuse and ensuring everyone has access to recovery. Prior to joining Landmark, he served as a marketing and enrollment executive in the education sector.
H. Chris Kang, Esq.
General Counsel
H. Chris Kang serves as General Counsel for Landmark Recovery and its affiliates. He leads the teams responsible for its legal affairs. In his role, he also helps Landmark manage its insurance relationships, risk management, and its real estate portfolio. Aside from his experiences as a lawyer, Kang brings almost a decade of experience as an entrepreneur and investor in the real estate, construction, and manufacturing industries to Landmark. Kang received his Juris Doctor from the University of Michigan Law School where he graduated cum laude. He received his Bachelor of Music from the University of the Arts in Philadelphia.