Throughout his 17-year career in the 1980's and 1990's, baseball legend Darryl Strawberry won Rookie of the Year, was an eight-time All-Star and finished in the top ten in Most Valuable Player voting four times. Strawberry is a four-time World Series champion and was inducted into the New York Mets Hall of Fame.
During his impressive career, Strawberry struggled with addiction issues and was in and out of legal troubles during the end the of his career and the years immediately after his retirement from the MLB.
After hitting rock bottom in the early-2000's and receiving an 18-month prison sentence, Strawberry decided to turn his life around and use his mistakes as a lesson to others. Since his retirement from professional baseball, Strawberry has become a preacher and opened up his own congregation as well as a few drug and alcohol treatment centers to help people through their problems with substance abuse.
"When I look in the mirror, I look at the enemy. There is no one to blame for this but myself. I should have bought myself a mirror a long time ago.'
Darryl Strawberry was born on March 12, 1962 in Los Angeles, California. Strawberry dealt with drug issues since an early age. In an interview with Yankee Magazine, Strawberry recalled that he began drinking and doing drugs in middle school.
"I started drinking and smoking marijuana when I was 13 years old. I was already in trouble coming out of junior high school. I was smoking a couple joints before I got to school, and there were times when I wouldn't even go to class. I would go into the bathrooms and start a fire because I was high and I didn't want to go to class. I continued to drink and use drugs when I got to high school, even though I was playing sports.'
Even after he started playing baseball seriously in high school, Strawberry didn't stop his drug use. Despite his use of substances, Strawberry's high school baseball career at Crenshaw High School in Los Angeles flourished and he was impressive enough to draw nationwide attention.
In 1980, Darryl Strawberry was drafted as the first overall pick by the New York Mets.
Barry Colla Photography, Darryl Strawberry 1986,
marked as public domain, more details on Wikimedia Commons
It didn't matter that he was the first overall pick in the biggest baseball league in the world, it didn't matter that he had earned $200,000 in a signing bonus, it didn't matter that he could potentially ruin his career, Strawberry kept using drugs. In fact, his drug use became worse.
'At that time, I just drank more and smoked more than when I was in high school. People don't realize that drinking and smoking marijuana are going to lead to other drugs, but they do. Eventually, marijuana and alcohol are going to stop working, and you need to get to a different place.'
Eventually, Strawberry graduated from marijuana and alcohol to harder drugs. This move happened to coincide with his with his graduation from the minors leagues to the majors. On his first road trip with the Mets, Strawberry was offered cocaine by some of his veteran teammates.
'That was part of the Big League lifestyle at that time. The drug when I came up was cocaine. I went to the back of the plane and tried it, and I liked it. I fell into the same lifestyle as everyone else, drinking and using cocaine.'
Despite his constant off-field recreation, his on-field play at the time didn't fall. In fact, he was playing great. Great enough for him to win the Rookie of the Year award in 1981.
'Playing baseball wasn't a problem. That was easy. I pretended I was happy because I was successful playing baseball, but I was never a real man. I was never a real husband, and I was really never a real good father. I just wanted to do what I wanted. So it was great to accomplish all of those things as a baseball player, but that didn't make me a man.'
It wasn't long before Strawberry started to use more and more to the point of addiction. He told the Los Angeles Times that during his early twenties he felt empty despite the success he was experiencing with baseball.
"I'm 21, 22, 23, and at that age you never think your life can be derailed. So I became addicted to all of it — the womanizing, amphetamines, cocaine, being rich. And then as you get older you
realize you have everything, but you're bankrupt inside. You're never free; there's always an emptiness inside. I used to go and sit in my $2-million dollar home and feel empty. It's all fun, and then it becomes toxic."
As his career continued, Strawberry's off-field issues continued to get worse. Just before his last season with the Mets began in 1990, Strawberry's wife filed for divorce and he checked into an alcohol rehabilitation program, something that would happen two more times during the course of his career.
Matters got worse for Strawberry four years later. After signing with the San Francisco Giants, Strawberry tested positive for cocaine and the Giants released him shortly after. He only played in 29 games in San Francisco.
'When I was finished with the Giants, I didn't care about playing baseball anymore,' Strawberry said. 'I had enough money at the time. Then, after I went through the whole process of being suspended for 60 days, I started getting calls about possibly coming to play in New York again. The thought of returning to New York to play baseball was the only thing that sparked my interest in ever playing again.'
The New York Yankees, the team he would finish his career with, signed Strawberry on July 4, 1996. In 1998, after losing weight throughout the season, he was diagnosed with colon cancer, a type of cancer that alcoholics are at higher risk of being affected by.
'That changed my perspective on life more than anything else did. My mom died at the age of 55 from terminal breast cancer, and there I was in my late 30s going through a similar process. I didn't know if I was going to make it or not.'
Although treatment for his diagnosis was successful in removing the tumor, Strawberry's troubles continued. In April of 1999, Strawberry was arrested for possession of cocaine and soliciting a prostitute. He was given another suspension but joined the Yankees at its conclusion of the season as the team began their postseason run that ended in a World Series championship.
This ended up being Strawberry's last year of professional baseball as he relapsed again in 2000 and was forced by the court to undergo drug treatment. However, Strawberry left the treatment center without permission and was sentenced to 30 days in jail. During this time, his cancer also returned and surgery was needed to remove one of his kidneys.
Since his first jail sentence, Strawberry continued to struggle with addiction and was in and out of treatment and legal troubles. Eventually, in 2002 he was sentenced to an 18-month prison sentence for violating probation on cocaine possession charges. He was released in 2003 after serving 11 months.
'When I took the uniform off, I was in the midst of a complete downward spiral of addiction. I'll never forget the number I wore in prison, T17169. When I was in jail, I refused chemotherapy because I would have much rather been dead. But God was doing for me what I couldn't do for myself. He wasn't going to let me go."
Following his prison sentence, Strawberry had an awakening. Since the end of his baseball career and his legal troubles, Strawberry has turned his focus toward God and has even become a preacher with his own congregation.
Strawberry has also decided to use his life as a lesson to others struggling with addiction issues, he has opened a few treatment centers under his name. He has even told the public about his story on CrisisNextDoor.gov, a website that launched under the Trump administration that is focused on talking about the opioid crisis and fighting the stigma associated with drug use.
"I sit here today free and liberated. I just want to encourage people that hope it possible. It's truly about people helping people. We need to get back to the place where we start helping people and reaching out to people. Those lives that are struggling in the midst of addiction, those lives that are fighting with opioid, heroin addiction, those lives matter."
At Landmark Recovery, we are dedicated to providing our patient with the tools they need to move on from their addiction. Our facilities offer residential treatment, intensive outpatient programs, and medical detox centers to individuals struggling with a substance use disorder. If your or someone you love is struggling with an addiction, don't hesitate to call our admissions team.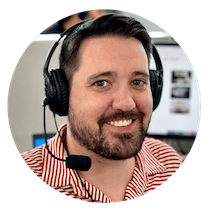 Choose Recovery Over Addiction
We're here 24/7 to help you get the care you need to live life on your terms, without drugs or alcohol. Talk to our recovery specialists today and learn about our integrated treatment programs.