When Does Addiction Treatment End?
"The struggle…is enough to fill a man's heart. One must imagine Sisyphus happy."

– Albert Camus, The Myth of Sisyphus, 1942
For those who've suffered from substance use disorders, some things are never over. Many people wonder if they'll be "cured" after completing treatment for a drug or alcohol addiction. What they find out is there is no cure to addiction, but rather a sustained recovery strategy that can require ongoing treatment.
Ending addiction treatment is not as simple as it sounds. Recovery doesn't end, but becomes a part of someone's lifestyle. This allows those in recovery to live life free from an addiction beyond the one they had when they were suffering from their substance use disorder. Recovery is all-encompassing once you leave a treatment facility.
What is Treatment?
Treatment can describe many aspects of the recovery experience for patients. When addressing the detox, rehab, and residential portion of treatment, Landmark Recovery takes a holistic and comprehensive approach. This allows us to fully treat each patient that completes an inpatient stay. During the residential treatment portion, we provide patients with therapy and any other resource they need to achieve a complete recovery. Recovery, once begun, is a process that takes discipline, support and thoughtfulness to continue and maintain. Giving patients the resources to have a successful recovery is important in helping them reach the best outcome.
Challenges to Addiction Treatment and Recovery
Arguably the biggest post-treatment challenge for those in recovery is to make sure it lasts. For some in recovery, it's a constant uphill battle. Learning how to conduct some form of dialectical behavioral therapy on the self is important in finding ways to cope with issues that pop up. These issues could be withdrawals, cravings, or peer pressure to use drugs or alcohol again.
Stages of Addiction Treatment and Recovery
Recovery, while everlasting, takes place in stages:
Understanding you're suffering from an addiction and preparing for addiction treatment
Many of those who need treatment have come to realize they need help upon self-reflection.
Bill Wilson once wrote in Alcoholics Anonymous for the first of twelve key steps that "we admitted we were powerless over alcohol—that our lives had become unmanageable." Self-reflection in the beginning has always been a key part of a comprehensive recovery.
Once you've come to an understanding that you've suffered from a substance use disorder, the next step would be reaching out to a treatment center that offers the right kind of treatment for your addiction.
Detoxing (for those who need this step) and being treated
When you've arrived at a treatment center, you'll be evaluated then made ready for the detox stage if it's determined that you need it. Detoxing is often a difficult stage that involves a lot of personal resolve to continue the uphill battle against your substance use disorder. Often the detox stage may be augmented with prescription drugs that help stabilize patients and minimize the severe aspects of withdrawals and cravings. This allows medical staff to begin targeting the parts of an addiction that cause it. Many of those who check into a rehab choose to drop out of a program during this stage, but it's important to stay with it, even if it seems hard.
Learning to cope and building a toolbox
During a stay at a rehab, you will be placed with a therapist that will help you develop skills to cope with an addiction and any of the circumstances surrounding it. This is part of a therapy practice called dialectical behavioral therapy. The therapist you're placed with will also walk you through cognitive behavioral therapy to treat your behaviors to help you move past the non-medical use of substances. All the treatment that a therapist does for you will go towards building a mental toolbox of ways to cope and behave differently than you did before.
Lifestyle changes (support networking and more)
Once you've built a mental toolbox with the tools you need to have a successful recovery, you can begin restructuring your entire lifestyle around maximizing the positive results of your treatment. This could involve several factors, like building a new network of those who influence you positively or making time to attend a local Alcoholics Anonymous meeting.
Long term changes
Part of making long term changes is taking advantage of post-treatment programs, like alumni services and continued therapy sessions. Landmark Recovery offers all of these to our patients to make sure that they achieve long term recovery, as statistics show that most of those who follow up treatment with resources like alumni services don't relapse compared to those who use no post-treatment resources.
What Do Those In Recovery Think?
Glenn Suggs, a trainer at Landmark Recovery's headquarters has been in recovery for several years. He spoke about the moment he considered treatment over.
"Everyone will have a different answer, but for me, recovery began on day 1 of treatment and treatment ended on the last day of intensive outpatient treatment," Suggs said. "Recovery never ends, though. It helps you see life backwards—to see what needs to be worked on."
Describing how treatment and recovery relate to each other, Suggs delved deeper: "You fuel the fire of recovery with treatment and resources. When intensive outpatient treatment ended, for me, that was when I considered treatment over. Treatment is the catalyst for recovery. It's a spark for the fire, the one that treatment fuels and recovery nourishes."
Learn More
To learn more about what Landmark Recovery offers, give our dedicated admissions specialists a call at 888-448-0302 today. Our mission is to save one million lives in the next century, starting with those in need of addiction treatment.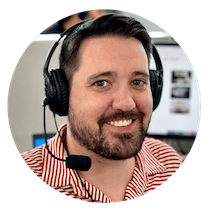 Choose Recovery Over Addiction
We're here 24/7 to help you get the care you need to live life on your terms, without drugs or alcohol. Talk to our recovery specialists today and learn about our integrated treatment programs.