How an Indiana mom of 4 overcame postpartum addiction and losing custody
Cathy "Cate" Hisle dedicated her life to motherhood. One of six siblings, she understands what it means to have a big family. She would eventually have four children of her own. When Hisle's youngest daughter left to live with her oldest daughter, it was only meant to be temporary, but years of unresolved trauma and substance use disorder (SUD) finally caught up with the 48-year-old. 
"I had a very rough childhood," Hisle said. "My dad was an alcoholic. My mom was an alcoholic, and neither one of them had the coping skills to deal with six kids. My father committed suicide when I was six."
A neglected childhood combined with emotional pregnancy complications led Hisle down a path of drug and alcohol use to escape pain and mental health issues that were also common in her family. Hisle attempted suicide four times.
As a result, the woman who committed her life to her children was no longer deemed fit to take care of her 14-year-old daughter, who now lives with Hisle's oldest daughter.
"It was supposed to be for just a month or two until I got back on my feet, but then later on she did file for custody and now has custody," she said.
The tipping point to recovery
Hisle said losing custody of her youngest daughter was the "final tipping point" before she decided to get help for her addiction. Up until that point, drugs and alcohol had distracted her from being present mentally and physically for her child.
"I slept all the time," Hisle said. "I'd take a handful of pills and wash them down with alcohol. Then, I'd sleep for 15-16 hours at a time. My cooking was erratic. A lot of times she had to fend for herself."
On April 28, 2022, Hisle completed inpatient addiction treatment at Praxis of Fort Wayne by Landmark Recovery, a drug and alcohol rehab center serving Medicaid patients in northern Indiana. Her recovery story is nearly complete with full-circle moments. After graduation, Hisle completed the eight-week intensive outpatient program at Praxis of Fort Wayne and volunteered at the facility before accepting her current position as a patient engagement specialist (PES).
"I told [the staff] that I would be back, but the next time I came back it would be because I was working there," explained Hisle, who's been in recovery for over eight months. "I feel like I'm giving back to the residents what someone once gave to me, which is the care and the attention and the dedication to be there and the love that they need."
The only thing missing from Hisle's recovery story is her 14-year-old daughter, who remains in the custody of Hisle's older daughter. Although she initially struggled with not being able to care for her daughter full-time, Hisle said she understands how important it is for her to live in a stable environment.
"She's doing really well where she's at, so I don't want to upset that," Hisle explained. "It's a very stable environment for her, which is something she's never had because of my addiction." 
Postpartum depression and pain lead to addiction
According to a 2013 report published in Women Health, national survey data suggests that new mothers face a higher risk for alcohol and illegal drug use. In fact, a literature search of 12 studies published from 1999 to 2012 found that postpartum alcohol and drug use (30.1%-49%) was higher than substance use among pregnant women (5.4%-11.6%; 3.7%-4.3%). Although Hisle has a family history of addiction and mental health problems, her own substance use problems started as a result of the pain and anxiety she experienced both during and after pregnancy.
"I had a child born with a heart condition, and from that, I had a lot of complications after my pregnancy," Hisle said.
She explained that she had "really bad anxiety" and was prescribed benzodiazepines in addition to Oxycontin for physical pain. It happened during the first wave of prescription opioid overdose deaths in 1999. 
"I just kind of jumped right into narcotics, which progressed to opiates, benzos and then alcohol," Hisle said. "Because of all the trauma, especially with [my daughter's] birth and then later on having a preemie, it was just easy to get prescription pills."
Related: How an Alumni Overcame Prescription Pain Pill Addiction

An environment for recovery
Although Hisle has now sustained her recovery for nearly a year, she realizes there's still work to be done to repair relationships not only with her youngest daughter, but with all her children.
"She doesn't really talk to me very often," Hisle said. "None of my kids do right now because they want to make sure I'm clean before they come back into my life."
For many people who make the decision to go to drug or alcohol rehab, the reality is that some might arrive under the influence. That was the case for Hisle, who said her first week of inpatient rehab is all a blur.
 "I don't remember my first week there," she said. "I was very drunk when I went in."
However, with the patience and persistence of the patient engagement specialists (PESs) at Praxis of Fort Wayne, Hisle said she was motivated to attend her group therapy sessions and classes and become actively engaged in overcoming her addiction.
Related: Pediatric Guidelines for Speaking to Children About Addiction
"One of the PESs came in and she woke me up and said 'you've been in bed for a week, it's time for you to get up and go to group,'" Hisle explained. "She wouldn't give it up. She was very persistent about it, and that was the first day I had gone to a group. I went to group every day after that."
When asked what it was about Praxis of Fort Wayne's curriculum and style that made the biggest impact on her, Hisle said "they were invested in our recovery."
"They always made time to talk to me," she said. "I never felt like I was being pushed to the side or anything. If I was having a problem or just needed to talk to somebody, there was always somebody there for me."
With her body and mind clear of drugs and alcohol and more than 90 days of employment at the same facility, Hisle now has goals and dreams to focus on, like working towards an assistant patient engagement manager position. 
"Honestly, I owe praxis everything," Hisle said. "That's why I work at the rehab I graduated from because if it was not for that facility, I don't know that I'd be here today."
Learn more about addiction recovery
We share these stories of addiction recovery to highlight how achievable long-term recovery is. Whether you're a parent, a pet owner or you personally know someone struggling with drugs or alcohol, help is just one phone call away. For more information on addiction treatment care like inpatient rehab or our flexible intensive outpatient program, call 888-448-0302 to talk to a recovery specialist at Landmark Recovery. 
In 15 minutes or less, you'll be connected to a dedicated admissions team member on a confidential phone line. Click here to find a drug or alcohol rehab center near you.
Landmark Recovery is also on social media. Follow us on TikTok and Instagram, where we post daily content that's both inspirational and relatable.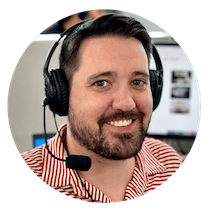 Choose Recovery Over Addiction
We're here 24/7 to help you get the care you need to live life on your terms, without drugs or alcohol. Talk to our recovery specialists today and learn about our integrated treatment programs.